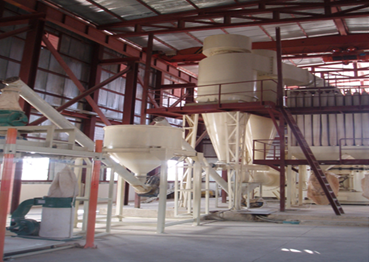 Welcome to Bolan Mining Enterprises (BME)
A mining lease spanning 316 acres for exploration of barytes in Gunga near Khuzdar, originally  
hosting proven reserves of 1.28 million tonnes, was granted to BME by GoB in 1974. The leaseis valid up to 2033. Due to recent drilling in the area, inferred reserves of 40 Million tonnes have been established.
Over the years, BME has met nearly 90 percent of the barytes requirement of the oil and gas exploration industry in Pakistan. Besides PPL, the major customers of barytes are Oil and Gas Development Company Limited, Pakistan Oil Fields Limited, Mari Petroleum Company  Limited, Scomi Oil tools (formerly known as KMC Oil tools), M-I SWACO (Pakistan) and Baker Hughes Incorporated. More recently, BME has started exporting barytes powder and lumps/ Ore to the international market mainly GCC countries.
Barite Introduction:
Barite is a mineral composed of barium sulfate (BaSO4). It receives its name from the Greek word "barys" which means "heavy." This name is in response to barite's high specific gravity of 4.5, which is exceptional for a nonmetallic mineral. The high specific gravity of barite makes it suitable for a wide range of industrial, medical, and manufacturing uses. Barite also serves as the principal ore of barium. It is also important in the manufacture of paper, rubber and Explosives. Barite is also used in radiology for x-rays of the digestive system. When pulverized, it is added to drilling fluids, which is poured into oil wells during drilling job.  
 Physical and Chemical Properties:
| | |
| --- | --- |
| Commercial Product Name : | Bolan Bar |
| Chemical name of the substance : | Barium Sulfate, BaSO4 |
| Molecular Weight: | 233.39 |
| EC No : | 231-784-4 |
| CAS No. : | 7727-43-7 |
| HS Code: | 2511.1000 |
| Availability :          | Powder (200 mesh or 75µm), ore / lumps (0-200 mm) |
| Packing material for powder : | 1.0 tonne & 1.5 tonne capacity polypropylene woven jumbo bag with poly ethylene inner lining |
| Ore / Lumps : | In loose form, size 0-200 mm  |
| Relative density : | < 4.10 & 4.20-4.25 mg/cm³ |
| Barium Contents : | 80% to 95% |
| Colour / Odour | Varies from grayish to fawn / Odourless. |
| Melting point :       | 1580 °C |
| Water solubility : | slightly soluble |
| Partition coefficient :           | n-octanol / water : no data available |
| Explosive properties : | not applicable |
| Oxidizing properties : | not applicable |
Industrial Uses:
Drilling applications :                            
As weighting agent during drilling of Oil and Gas wells.
Other use :                                          
In the paper, rubber and miscellaneous industries; as a filler or extender in cloth, ink, and plastics products; in radiography ("barium milkshake"); as getter (scavenger) alloys in vacuum tubes; deoxidizer for copper; lubricant for anode rotors in X-ray tubes; spark-plug alloys as absorbent in dynamite. Also used to make an expensive white pigment.
Current Business Activities:
Mining, Grinding and Marketing of Drilling Grade Barites powder and ore to mainly Oil and Gas drilling companies in Domestic and Global Market and export of ore globally respectively.
Grinding Facility: 
BME has its own following grinding mills, for grinding of barite ore extracted from Gunga Mines:
1. MTM-160, 100,000 (TPY) production capacity.
2. BM-10,        50,000 (TPY) production capacity.
Daily Average Production: 
| | |
| --- | --- |
| Barite Mining | 800 -1000 Tonnes |
| Grinding | 200 - 250 M. Tonnes |
Quality Control: 
BME has own API certified quality control laboratory for testing & analysis of both barite powder and Ore, however, BME also get production analyzed from independent labs (SGS Pakistan (Pvt) Limited & Qualitest laboratory Karachi) for cross confirmation of test results and Administration control. The only material that conforms to API Specs 13-A releases for sales. Buyers are also encourage to carry out analysis through their own resources:
Storage Capacity
BME has its own storage facility at its mill premises at Khuzdar. To keep an stock of 4,000 tonnes ground barite and 40,000 tonnes raw material (ore / lumps form) to meet emergency requirements of export customers.