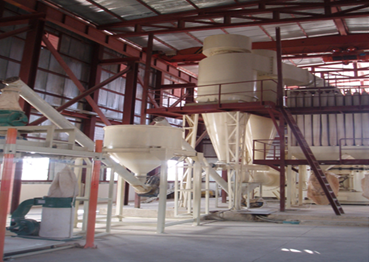 Welcome to Bolan Mining Enterprises (BME)
Bolan Mining Enterprises (BME) is a joint venture between the Government of Balochistan (GoB) and Pakistan Petroleum Limited (PPL), each with a 50 percent working interest. BME was formed through a joint venture agreement signed on June 1, 1974 to mine, grind and market barite deposits near Khuzdar and other minerals in Balochistan. PPL was designated as operator under the agreement. The agreement was renewed in June 2004 for another 30 years, valid till 2033.
GoB granted a mining lease spread over 316 acres for exploration of barite in Khuzdar, hosting proven reserves of 5 million tonnes and probable 50-100 million tonnes. BME is the largest Barite producer in Pakistan and meets 90 percent of barite requirement of the local oil & gas exploration companies.
In 2002, BME acquired a mining lease over an area of 13,660 acres in Dilband for iron ore. Dilband ML is valid for three decades. Fine low grade iron ore from Dilband was supplied to Pakistan Steel Mills during 2003 and 2004. BME is now working on exploring suitable technology for utilization of low grade Dilband Iron.
BME also holds two iron mining licenses, valid until 2026, in the northwest of Nokkundi, Balochistan. These two MLs hold about 50 million tonnes iron. Beneficiation studies on laboratory and pilot plant scale, established that concentrate of acceptable quality could be produced from Nokkundi ore. This was followed by engineering study for setting up a beneficiation plant with processing capacity of 0.5 million tonnes run of ore annually. Later, the study was revised and updated for annual processing of 1 million tonnes instead. Mine planning, designing and detailed engineering studies have recently been initiated for mining of iron ore on scientific basis to optimize production from Nokkundi reserves. The study will be completed by the mid 2018 including 8,500 meters drilling for a bankable feasibility study.
An exploration license for lead and zinc, covering an area of 93,507.63acres, west of Khuzdar was granted to BME in March 2008. A contract was awarded to DMT consulting GmbH, Germany to prepare a bankable feasibility report for exploration of Baryte-Lead-zinc deposit. DMT Initially proposed to carry out 2,100 meters of exploratory diamond core drilling highlighted the presence of lead & zinc as well as baryte in the leased area. About 1,018 samples have been collected and analyzed chemically for ascertaining the ores' quality. Moreover metallurgical testing on laboratory scale has been completed on two bulk samples by IMN Gliwice, Poland with positive findings.
Based on the data collected to date, the project consultant recommended carrying out approximately ±10,000 meters of additional 'resource drilling' at 27 different locations for 'Resource Evaluation' for consideration by Joint Ore Resource Committee. Subsequently a contract was awarded to Interdrill Pty Ltd Australia for drilling. Drilling of 10,000 meters has been successfully completed in September 2017 while metallurgical analysis are in progress. The results of on-going operations would establish the economic viability of the deposit. The project is expected to start commercial production by 2020 -2021. 
Since 2013 BME entered into Barite export business and there is a high demand for BME barite in gulf countries. BME Barite is of API-drilling grade standard and generally having Sp gravity of greater than 4.21 g/ cm³. BME exported about 200,000 metric tonnes barite to Middle East and other countries.