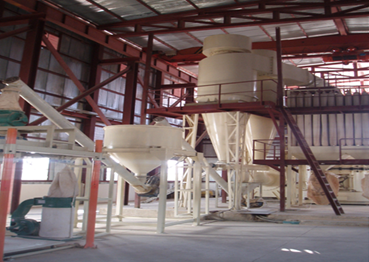 Welcome to Bolan Mining Enterprises (BME)
BME is authorized by American Petroleum Institute (API) to use official monogram of API on Bolan Barites under License No.13-A-0028.
BME has own API certified quality control laboratory for testing & analysis of barite powder and barite ore, however, BME also get production analyzed from independent labs (SGS Pakistan (Pvt) Limited & Qualities laboratory Karachi) for cross confirmation of test results and Administration control. The only material that conforms to API Specs 13-A are released for sales.
The Bolan Barite properties, strictly conform, rather surpasses API 13-A Specs of American Petroleum Institute (API), a world over quality bench mark for the drilling grade Barite, which is also indicative of our quality product. Barite Powder is available on 200 mesh size with the retention of 3.0 wt percent (Max). The moisture contents are < 5%. Comparison of API Specification 13-A and Bolan Barite is as under: 
| | | |
| --- | --- | --- |
| REQUIREMENT | API 13-A SPECIFICATIONS | PROPERTIES OF BOLAN BARITE |
| Density | 4.20 g/cm3, Min. | 4.20 to 4.25 g/cm3 |
| Water Soluble alkaline Earth metals as calcium. | 250 mg/kg, Max. | 200 mg/kg |
| Residue greater than 75 Micron | 3.0 weight percent, maximum | 2.07 weight percent. |
| Particles less than 6 Micron in equivalent Spherical diameter. | 30 weight percent, maximum | 9.2 weight percent. |